Recently I was in touch with student teams participating in world-class student competitions, such as fuel economy and solar car challenges. I am impressed with the passion and innovation these teams have for their projects and the practical and theoretical skills they've built during the process.
The C-Class Catamaran Team Rafale of Montreal's École de Technologie Supérieure (ETS) is another example of these impressive accomplishments. This one is a little different though: the team is up against some of the world's best professional sailors, some of whom have a much larger budget. Team Rafale will be competing in the Little America's Cup at Lake Geneva beginning tomorrow and going till September 20th.
The rules are simple: build a catamaran shorter than 7.62 m (25 feet) and less than 4.26 m (14 feet) wide. The sail cannot be higher than 13 m and bigger than 27.38 m2, and the boat can only be sailed by two people. Even though the competition is done on C-Class catamarans, it is hard to call them boats! With their sophisticated hydrofoils lifting them out of the water and their rigid wing sails pushing them up to speeds over 30 knots (35 mph), you are tempted to compare this technology to those of airplanes.
As a result, simulation techniques used in the aerospace industry, such as composites optimization and CFD, are commonly used by all teams. The innovations in the Little Cup are usually reused at the big sister event, the America's Cup which for the second time, will be carried out on fully foiling catamarans in 2017.
Watch Julien Chaussée – Aerospace Engineer at Bombardier and Technical Consultant of the team – in this video interview talking about how they used Altair products while designing Rafale.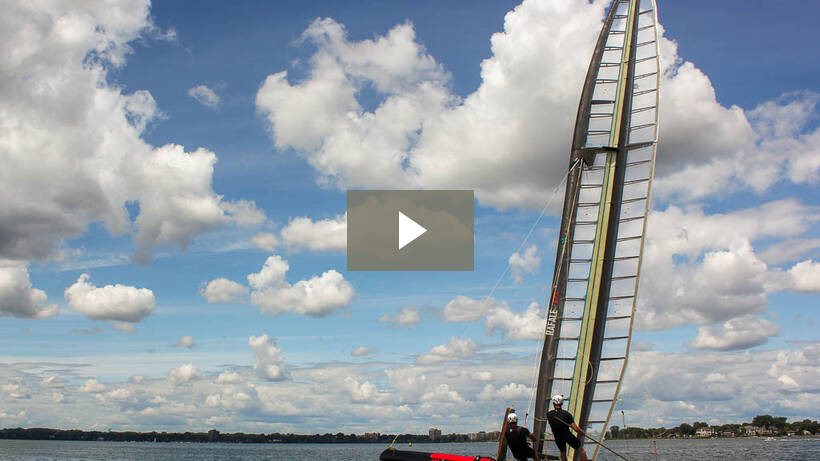 We wish them all the best on their very first adventure in C-Class catamaran racing! They have won at the starting line in the design process – let's see what student passion fueled by Altair technology can do!
Latest posts by Ulrich (Uli) Gollwitzer
(see all)