When the U.S. Paralympian runner, Blake Leeper, who was born without legs below the knee, challenged the audience of industrial designers at the 2013 Industrial Designers Society of America (IDSA) conference to advance running blade technology, what did Altair do? Accept the challenge.
Altair Thinklabs, along with Eastman, a chemicals and plastics manufacturing supplier, took up Leeper's challenge to enhance and develop a new generation of running blades that will not only get Leeper into the 2016 Summer Olympics, but also change the world for other amputees. Currently, Leeper's blades stay in place via suction with a sleeve that covers his leg and the socket; the system also uses bolts to hold the blades in place, with a spike plate on the bottom. From the wearer's perspective, there are many challenges with today's blades, having mainly to do with speed, psychological comfort, traction, and agility. Over the course of four and a half months, a team from Altair Thinklabs collaborated with Leeper to design a pair of unique and innovative running blades that would be suitable for a Paralympic athlete.
Altair presented the results at the invitation-only Eastman Innovation Lab Breakfast during the 2014 IDSA conference, which showed great potential for the newly designed blades. The new concept redesigned the spike plate to act more like a human foot, since running blades are normally flat planes, resulting in a significant loss of energy at turns. Another priority of the designers was to update a design that had for all intents and purposes remained stagnant for 10 years. The more aerodynamic blade decreases drag force by 57%, which is equivalent to a half second faster return in the 400m race. "The focus is on redirecting energy so that it forces more power forward instead of into the ground. It twists at the top, redirecting energy that he's losing with the current blade setup," notes Mike Kidder, Senior Vice President of Corporate Marketing at Altair.
Finally, a fabric shroud and latch lock the socket into place.  This solved Leeper's final concern – anxiety about the blade falling off. The shroud flexes when it hits the ground, and holds strong when the blade comes back up. In addition, Altair developed a full-body suit similar to a compression suit, which integrates Leeper's body with the latching system to achieve a more complete flow of movement. The new concept meets Olympic regulations.
Toward New Frontiers for Prosthetics with 3D Printing and Topology Optimization
It's not over yet. As prosthetic legs are highly individual products that must fit the needs of amputees with highly variable dimensions, 3D Systems Bespoke Innovations has adopted solidThinking Inspire® to help change the way the world thinks of prostheses. 3D Systems provides 3D design-to-manufacturing solutions including 3D printers, print materials and cloud-sourced custom parts. 3D Systems first met with the solidThinking team at the 2014 Additive Manufacturing User Group meeting this April in Tucson, Arizona, and developed a strong interest in solidThinking Inspire. Bespoke Fairings™ are specialized coverings that surround an existing prosthetic leg, which allow an individual to customize its "look" to match his or her  lifestyle. We can definitely say that the evolution of prostheses is happening now!
Check out this video about the Blake Leeper Design project!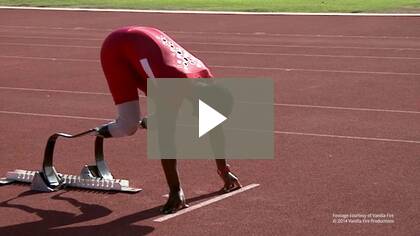 Latest posts by Craig Mackiewicz
(see all)