I recently had the opportunity to speak at the TEDxDetroit conference about a very exciting project we're working on with the potential to have a huge impact on a significant number of people. For those of you who are not familiar, TEDx is a spinoff of the larger Technology Entertainment Design (TED) conference that occurs annually in California. The conferences are opportunities for innovators and creators to share positive ideas and innovations that make the world better.
In our case, I spoke about Altair's work with Blake Leeper, a bilateral below-the-knee amputee and Paralympian runner who has a goal of competing in the 2016 able-bodied Olympics in Rio. Born a natural athlete, Blake has overcome several obstacles on his journey of becoming the world-class athlete that he is today. But, he still faces many limitations with existing prosthetic technology. That's where we come in.
Our Altair Thinklabs team is working with Blake, who has been using prosthetics since age nine, to re-design his running blades so he can perform at his best. The goal is not to give Blake an advantage over his able-bodied competitors, but rather, to improve his blades to level the playing field for a true competition of talent.
Traditionally, prosthetic blades have been made with a one-size-fits-all approach. That would be fine if people, in fact, were all one size. This approach not only has flaws, but it can have long-lasting health consequences. In Blake's case, one leg is longer than the other and his asymmetrical body was forced to adapt to symmetrical devices. This was causing stress on his back and his hips, not to mention inefficiencies in his running performance. Equally as important, psychologically Blake has long struggled with a fear of falling, resulting from a loose blade that caused him to fall as a child.
The solution is taking a clean-sheet, human-centered approach focused not on making the blades work faster, but how to make them work better for the individual. And at Altair Thinklabs, human-centered design is our specialty.
As we work with Blake, we're thrilled to watch him on his road to Rio. But the implications of the design are so much bigger, advancing prosthetics technology not only for athletes but also for the general population of amputees. Taking a human-centered approach to prosthetics has the potential to impact amputees and others who rely on these devices everywhere. Whether it be assisting them to walk without pain, run without fear or simply improving their quality of life, our approach is intended to create design solutions that work more harmoniously with the human body.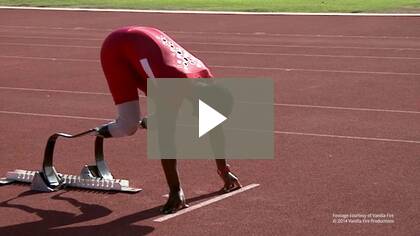 We encourage you to follow us as we work with Blake on his journey to Rio. To see my full TEDxDetroit talk, visit www.TEDxDetroit.com and begin the livestream video at 8:13:25.
Click here to read the blog post about this project!
Latest posts by Kevin Shinn
(see all)