The 2015 Americas ATC officially kicked-off today at the Ford Motor Company Conference & Event Center in Dearborn, Michigan! Hundreds of engineering professionals and top-level industry leaders were united to exchange new ideas, solutions, and experience. A wide-ranging series of key research papers were presented at the conference responding to emerging trends and capabilities in manufacturing, computer simulation, design, and optimization.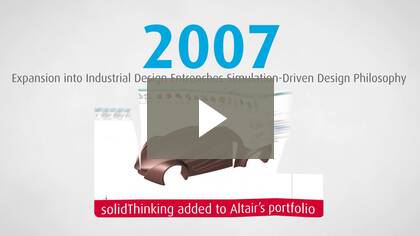 Altair Chairman and CEO, James Scapa, set the conference in motion with welcoming remarks that highlighted Altair's plans and vision for continuing to advance the use of simulation in the design of products and decision making for businesses around the world, as well as current and future market trends in this industry.
Take a look at the video below of Michigan Governor, Rick Snyder, addressing ATC attendees regarding Altair's continuous support to Michigan's economy and a congratulatory message on Altair's 30th Anniversary:
Franck Mouriaux, General Manager of Structures at RUAG Space, followed the Governor's address with a featured presentation on "Motivations, Opportunities and Challenges of Additive Manufacturing for Space Application".  The presentation centered on the successful cooperation between Ruag, Altair, and EOS to optimize and develop the largest space component ever produced using additive manufacturing.
Altair Chief Technology Officers, Uwe Schramm, Sam Mahalingam and James Dagg presented Altair's vision for solvers, cloud, and modeling and visualization. Moreover, Altair Training Specialist Erik Larson and Application Engineer Linus Fernandes presented HyperWorks Tips & Tricks for Modeling and Visualization. The major session concluded with Ulrich Jakobus, Altair Vice President of Electromagnetic Solutions, who covered a high-level overview and vision for FEKOTM technology.
Focused break out track sessions included:
Structural Component Design Optimization for Additive Manufacture: Professor in Practice, University of Texas at Arlington, Consulting Engineer, Optimal Structures, LLC, Robert M. Taylor of Optimal Structures demonstrated how additive manufacturing removes many of the constraints on product design, enabling all types of products to be much more efficiently produced and as much as 30 percent lighter. He explained how the advanced capabilities of Altair HyperWorks® tools for designing structural topologies can minimize weight while maximizing performance.
Cutting-Edge Optimization Methods for the Aerospace Industry: Structural Analysis Engineer David Bowen of Boeing described how the new MultiModel Optimization capabilities in Altair's OptiStruct® software can overcome the problems associated with attempting to optimize structures and components across multiple configurations. The result is a common component optimization process.
Solid Hex Meshing the Human Lumbar Spine: Altair Greg Harte on behalf of HyperWorks' customer Jeff Harris from NuVasive presented their project that utilized HyperMesh to develop a solid hybrid mesh of consecutive human vertebrae and discs from a patient bone scan. The detailed model contained a section of the spinal column with 5 to 7 unique vertebrae and their corresponding discs.
As a way to celebrate Altair's 30 Year Anniversary, all attendees were invited to attend the 2015 Americas ATC After Hours Social event that featured the DeLorean time machine replica from the 30 year-old movie Back To The Future!
Check out the 2015 Americas ATC Trainings and Workshops Day.
Check out the 2015 Americas ATC Closing Day.
Latest posts by Biba A. Bedi
(see all)